Winter Ice Castle in Stillwater, MN
January, 2017
David, Nicole, Alex, grand kid's Brookie and James and I spent a sunny afternoon in the castle, loved it. We purchased advance tickets so there was no waiting in line. There's a station inside the castle for good frosted cookies, cocoa and coffee (OK, I don't drink coffee but the guys said it was good :))
ice formations + ice slide + characters + tunnels
Read Discover Stillwater for more Information.
Road Trip to Stillwater, Minnesota
Part I
All the times David and I have trekked over to Stillwater and we never discovered this charmer! Special thanks to an amazing friend Emily (@thegoodwithin) for telling me about it. If you haven't been to Tin Bins you are in for a fabulous surprise. It resides in the old Commander Grain Elevator on Nelson Street across from The Dock Cafe - the same owners.
They serve appetizers, sandwiches, salads, coffees and cocktails. If you call ahead of time, you can reserve a meal and pick it up for a picnic. The group I was with had great food and got a mix of pastries to share; the lemon poppy seed muffin and lemon tart were excellent!!
It will be fun to return to take advantage of the St. Croix River view from their patio.
Tin Bins is not to be confused with The Buttered Tin, 237 7th St E, St. Paul, which should be on everyone's list of places to eat breakfast.
There are a few stores I always want to swing into while in Stillwater.
I looked in four stores in the Twin Cities for place cards (you know, those little things you write a name on for table settings). World Market, Target, Hallmark and Party Supply didn't have them and I want to add that touch to the setting for my Mom's 85th birthday. Who knew they would be difficult to locate. Mara-Mi is all things paper -- cards, journals, stationary, gift wrap - - so bam! Found them. Sometimes it's the littlest things that make me happy.
They have craft ideas on their website, including a popcorn holder project which would be fun with kids...check out www.mara-mi.com/inspiration If you haven't seen this space yet, you should go. The store is filled with pretty light and a small sitting area that makes me want to hang out with friends and talk parties.
The other shop is Stillwater Olive Oil Company, it's a perfect way to sample unique oil and vinegar combinations. If you want to take some home they fill the bottles and then return the empties for a discount on your next refill.
They have a Recipes Blog on their website if you want new ideas for using specialty vinegars and oils. The Balsamic Pot Roast looks delicious using Juniper Berry balsamic vinegar and Herbs de Provence extra-virgin olive oil. This Strawberry Goat Cheese Bruscetta is especially good with Strawberry Balsamic or Dark Chocolate Balsamic and fresh farm-picked berries.....
For arts and crafts enthusiasts, here's another way to go enjoy the beauty of the St. Croix. The artOPENer runs Friday, May 1 through Sunday, May 3. Families are welcome. I'm thinking glassblowing and potter's wheel demonstrations would be popular with kids.
Road Trip to Stillwater, Minnesota
Part II
How cool is this family to provide a park with great equipment to the City of Stillwater?!! Their plaque reads:
'Dedicated to the young children of Stillwater for whom there is never too much love. Or too many teddy bears.' Sherry and Tom Armstrong, 2006
You will find the park on the hill, at the corner of 2nd and South Nelson Street. There is a renovated building on the property, which has a kitchen space for warming and serving food and looks awesome for hosting a family gathering. The view is fantastic.
"Life is a game, play it." --Mother Teresa
And what's a river town without an ice cream shoppe?
Nicole, Kay, the kids and I stopped into Leo's Grill & Malt Shop to share a treat. I've walked past the walk-up window many times and now realize I've been missing a special place on Main Street. Amazing ice cream. Plus Urban Spoon Reviews say the burgers are exceptional so returning to Leo's on the next day trip to St. Croix is a given.
Road Trip to Stillwater
Part III
Spring, summer and fall, is great downtown and river walking.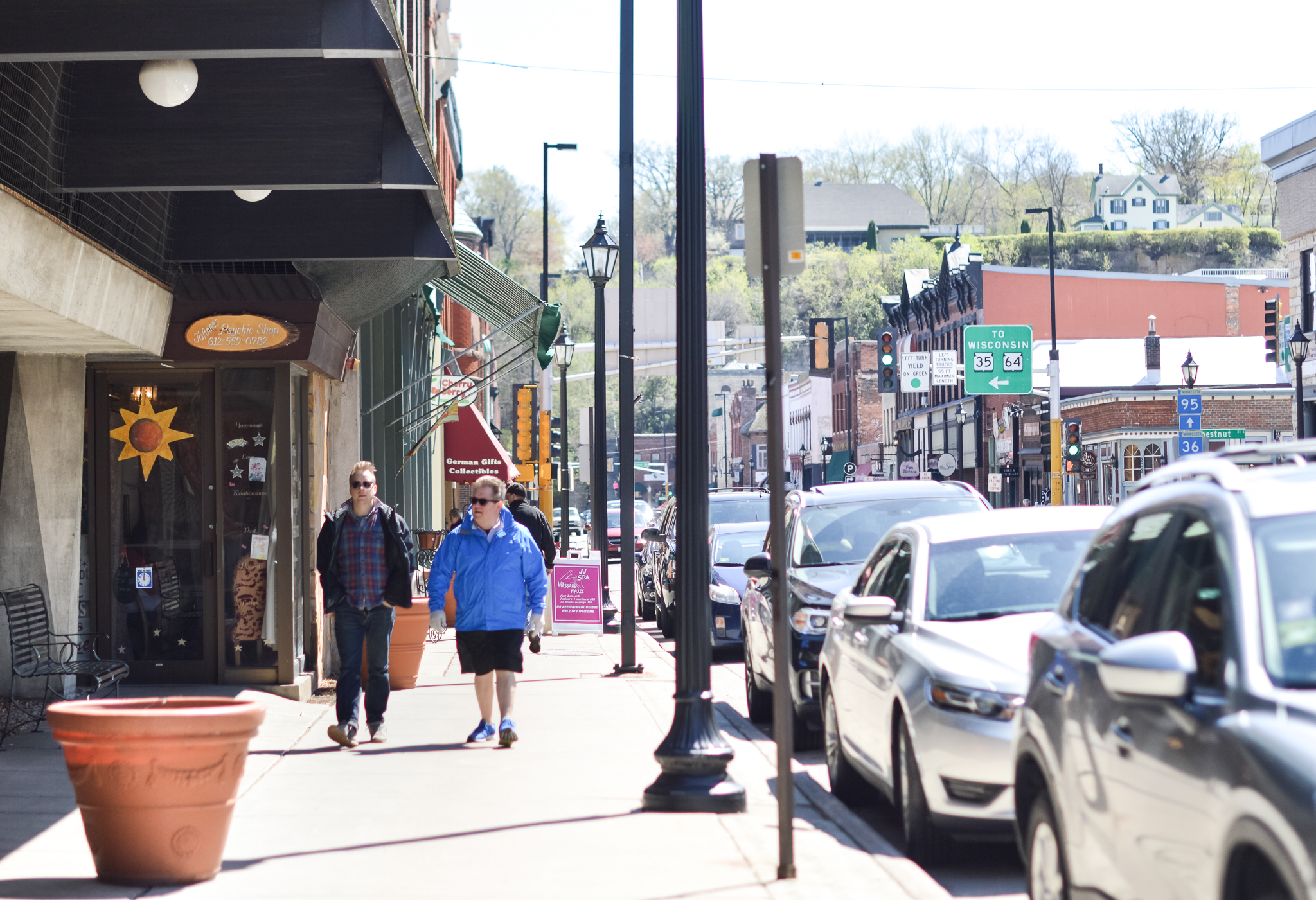 Roadtrip to the St. Croix River, Stillwater, Minnesota
Part IV
May 27, 2016
A tiny breezy with lots of sunshine. It was the perfect day for a big boat ride with girlfriends and I'm fairly certain it won't be my last cruise on the St. Croix Boat & Packet. I'd say it was the fourth time I've been on that quaint old boat, once for my sister's 50th birthday party which was a really fun day too.
Getting the tickets on-line a couple weeks in advance of when you want to cruise is easy. Trying to get last minute tickets to anything in Stillwater during the summer months tends to be iffy to impossible. The boat departs from the Port of Stillwaterand offers a theme for anyone: Brews Cruise, Mother's Day Brunch, Fourth of July Fireworks and Jazz on the Weekends. It's a relaxing couple hours and always a good sign of a good time when you wish the ride was longer.
Next time I'm wearing a pretty hat like Emily.........
And Elizabeth...............aren't these ladies divine?!!